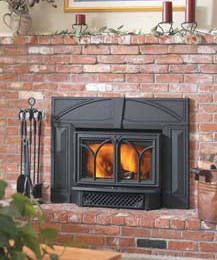 Checklist for buying a woodstove
June 2018
We have devised the following checklist for you so that, when you come to buying a fireplace, you can be sure of buying the one which suits your requirements best.
Will a Jøtul stove heat my entire home?
The ability of one of our stoves to heat your home depends on many different factors such as; how large your home is, what the R-value of your home is, where the stove will be placed, what sort of floor plan you have, how cold the climate is in your area, what type and quality of wood you burn, and what size Jøtul you're looking at. Each of our heaters refers to a heating capacity in square feet. This figure is given for an average home in a moderate climate with an open floor plan. You will have to adjust up or down depending on your individual situation. Your Jøtul dealer should be able to help you with this.
Are Jøtul products listed with the UL?
All current Jøtul woodstoves are safety tested and listed to UL standards by Intertek Testing Services (ITS). All current Jøtul gas products are tested and listed to ANSI standards by Intertek Testing Services, and approved by the Massachusetts Plumbers and Gas Fitters. Our Direct vent gas products are also listed to the CAN/CGA standards in Canada, the P.4.1 in British Columbia, and the California Energy Commission.
How important is a good draft?
Draft is a force that exists in a properly designed and functioning chimney system. It pulls air into the combustion chamber and expels smoke and combustion gases from the appliance. The ability for draft to exist depends on many factors: chimney location and height, elbows, horizontal runs, flue size, house construction, house pressurization as well as atmospheric and environmental conditions.
Do I need to have anything under the stove
Floor protection under the stove, must be constructed of a non-combustible material for protection from radiant heat, sparks, and embers. Individual sections of floor protection must be mortared together to prevent sparks from falling through to combustible materials. Any carpeting must be removed from under the floor protection.
Were can I find my local Jøtul dealer?
Visit the find a dealer section of this website to find a dealer near you.
Source : Jotul.com