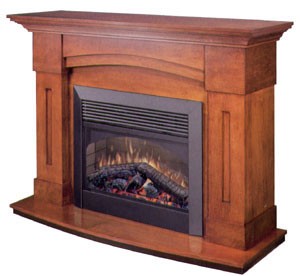 The Advantages of Electric Fireplaces
July 2017
Whatever the style of your home, the electric fireplace with its gorgeous flame and radiant heat, is the ideal choice for today's urban folk. Ideal for condo life, it is also perfect solution for the rooms of the house where you want a flame without all the chimney hardware. Simply plug the fireplace into an outlet and you're ready to fire it up. It's even easy to carry an electric fireplace up a flight of stairs.
Electric fireplaces are designed to be plug-and-play appliances, much like a stereo or a television. And with realistic fire technology that rivals a wood burning fire, the end result is snap, crackling great!
Electric fireplaces make having a fire possible no matter the time of year…and, for just pennies a day. On a warm night, simply turn on the fire – minus the heat – and in seconds you can be basking in the glow of the fire while still sitting in your shorts. Then, when evening temperatures dip, turn on the heat option to take the chill off. Electric fireplaces work well in colder climates, as well. With variable heat controls, you can create enough heat to warm your toes.
If you wish to brighten the décor of your home, office or place of business with an electric fireplace, please contact us for further details.
Source: Energy Source Builder