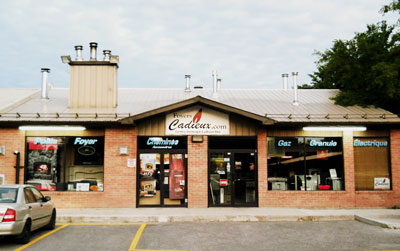 Our Mission
Our mission is for you to benefit from our experience, in matters of heating with auxiliary systems, through our advice and personalized service.
We have been offering the best products available and the very latest technologies on the market since 1974. To get the maximum performance out of your purchased product, our team of professionals will ensure that you receive counsel before, during and after installation.
Our showroom has an area of 3,000 square feet. More than 17 brands and 75 models of stoves and hearths are on exhibition.
Our Team
Foyers Cadieux opened its doors in 1974, under the business name of Maçonnerie G. Cadieux. Expert mason, Gaétan Cadieux founded the company with the help of his sons Richard, André, Alain and Raymond with Raymond taking over ten years later.
We now have more than 10 full-time employees including his son Patrik. We are certified and licensed by the Association des professionnels du chauffage (APC), the Régie du bâtiment du Québec (RBQ), and the Commission de la construction du Québec (CCQ).
All of our specialists and installers are also certified and keep up-to-date on new technologies in auxiliary heating. Many insurance companies, contractors and claims examiners call on our expertise.
Services
In as much as we offer quality products at a better price, we also want you to benefit from our service, which is second to none, before, during, and after the installation of your product.
Our main services fall into four categories: Counsel/Advice – Sales – Installation – Services. Our experts will first help ensure that you have chosen the product that is best suited to your style and needs. Nothing is left to chance: colour, look, materials, and functionality.
We then offer you a product at the lowest price possible. Our professional and specialized team installs your product, and we will do whatever possible to ensure your complete satisfaction by our excellent and proven after-sale service.
Contact us now