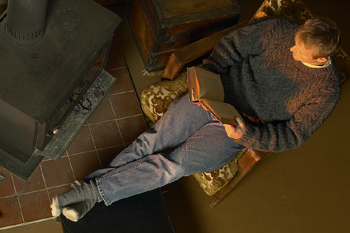 Heating with Gas
June 2017
Forget the kindling and the matches. Put away the bellows. Don't worry about the damper. Cozying up to a warm fire has never been easier. We bring you 'Fire at your Fingertips' with our full line of gas fireplaces, inserts and stoves.
Whether you want to heat a small sitting room, a newly finished basement, or an entire home, our gas appliances come in a range of sizes and styles to match your needs – and you don't need an existing chimney for installation, all you need is proximity to the roof or an outside wall. Here's what you need to consider when heating with gas:
Gas models can go anywhere
So if you want a fireplace or stove in your bedroom, your kitchen, or even your bathroom, we can make it happen!
Your best choice for zone heating
Most gas appliances are compact and require very little space for installation. This means that you can concentrate their power in the room that needs it most. While a central furnace works to heat an entire home, including the rooms not in use, a gas appliance, heats your living areas.
No electricity required
Our gas fireplace, stove or insert runs on the power of the pilot flame, and does not need any electricity (except for the blower). This keeps your energy costs down, and ensures safe and reliable operation even during power outages. And if the pilot flame should be extinguished, the valve will shut down and your fireplace will turn off, a valuable safety feature.
Lower operating costs
Natural gas remains one of the least expensive fuels available. If you are thinking about getting rid of your old wood stove or fireplace, or you are getting tired of lugging wood into your house, then a gas model is just what you need. Our stoves and inserts can be vented right inside your existing wood chimney, greatly reducing installation costs. It's easier than you think!
The ultimate in controlled heat
Every gas model comes with a basic on/off switch, located on the unit or mounted nearby on the wall. They can also be equipped with a wall thermostat (basic or programmable) for hands-free operation, or even a remote control for maximum convenience. You can choose the system that best suits your needs.
Glass and metal surfaces get hot
Every model is designed and certified as a heater, which means that they are engineered to deliver high efficiency heat to your home. The glass window and metal surfaces help conduct this heat, and will become extremely hot to the touch. Please take care when operating your fireplace, stove or insert.